Sariel the Master Archivist
Sariel is the Pernese alter ego of Cheryl Miller. While I don't participate in any of the numerous Pern MU*s or fanfic writing clubs (yet...), I felt the need for a separate persona to keep track of this Pern site. And to keep my alter ego happy, I let her Impress a cute little blue firelizard, whom she named Zoey.
I've come to realize that many people have no idea how to pronounce my name, so I thought I should enlighten everyone. Phonetically, Sariel sounds like Sair-ee-ell and rhymes with "Merry bell."
News About Cheryl--9/3/2004

I had quite a Pernese Christmas in 1999 in terms of gifts--which is impressive as I already own multiple copies of all the books! My neighbors gave me an adorable little dragon statuette. He's metallic blue, purple, and green in color, and as he has scales as well he definitely doesn't represent Zoey. Instead I've named him Imry (though I can't take credit for originating the name--one of the winners of Zoey & Emerald's cyber-eggs named her blue that). My mother-in-law finished my Pern costume for me--months before I expected her to! We picked out the pattern and fabrics together over the summer, and I'm quite pleased with the result. Finally, my dear darling husband Kendall gave me my Master's pin: a dragonfly pin with a sapphire on it. He also got me a matching sapphire bracelet! You can see all the above mentioned items in the picture I've posted here. Click for a larger view.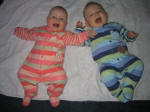 At the end of September, 2003, I had my first children. That's right, children plural, but luckily just two and not more. Micah and Galen are joyful, adorable, and amazingly well-behaved children, and I enjoy staying home with them every day. They are quite possibly the most photographed children in history, and have they own photo gallery online; click on the photo to visit it.
About Sariel--9/3/2004

Sariel has undergone quite a bit of development as a character as I've written some stories about her. I'd love to share them with you, but it's not legal to publish them on the web (or anywhere else for that matter). Instead I can share a bit of biographical information about her. Sariel grew up in a small coal-mining hold, where her father was the master miner. She was accepted as a student at the Harper Hall when she was twelve, a year after her mother died. Originally she studied woodwind instruments, having a natural talent for playing all sorts of pipes and reeds, but she soon discovered a passionate interest in the archives. After walking the tables to become a master archivist, she was posted to Landing where she teaches at the newly established school.
Future Site Plans--9/3/2004
I don't have any concrete plans at present, though I have many ideas on what I'd like to add. I'm probably going to devote most of my available time to my general McCaffrey website, which I recently redesigned and somewhat expanded. There's a lot more work I'd like to do there, and as general McCaffrey sites are sadly rare on the internet, I feel it's time I did something about that!
Uh oh! Gotta go--Zoey just informed me that my next class is arriving...